Otoplasty


in Pacific Palisades, CA
What is Otoplasty?
Patients who feel that the ears protrude too extremely, are too large, or are otherwise distorted, may be interested in speaking with one of Pacific Palisades Plastic Surgery experienced surgeons about an otoplasty.
An otoplasty is a surgery designed specifically for the ears, which can address such problems. Otoplasty is also referred to colloquially as ear reshaping or ear-pinning. Because the ears are one of the first features of the body to reach their final physical size and position, it is not uncommon for young patients who face insecurity issues or emotional trauma at school to undergo otoplasty, which is a safe and effective procedure even in children as young as five or six. Otoplasty can also be safely performed in adults and remains a very safe procedure in adult patients as well. Because it is milder than many other forms of cosmetic surgery, adult patients often choose to have otoplasty performed in conjunction with other facial cosmetic surgeries, and this can be done without drastically compromising safety or results.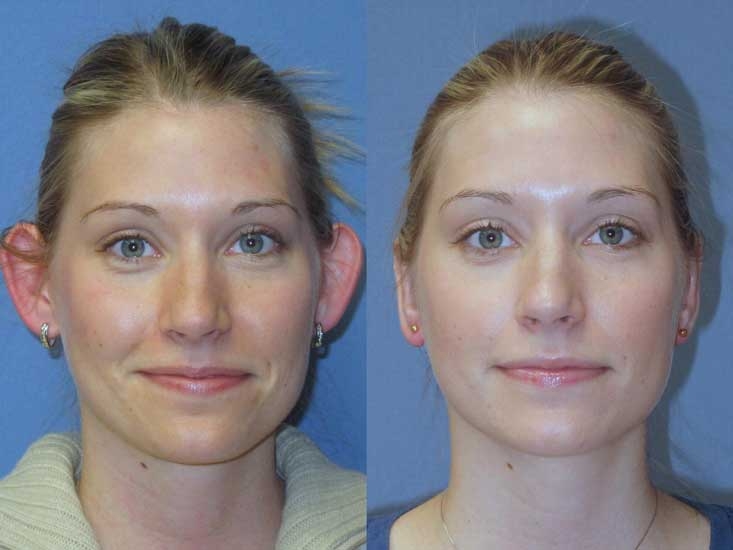 What Happens During Otoplasty Surgery?
An otoplasty at Pacific Palisades Plastic Surgery involves first determining what issues a patient wants to address. One of the most common reasons for an otoplasty, reducing the angle at which the ears extend from the head, involves first making small incisions behind each ear. Sutures are often used to create antihelical folds, which sets the ears back. For patients who wish to decrease the size of the ear, the skin is open through incisions that are carefully located at points behind the ear that are easily concealed although scarring is usually minimal. From here the cartilage can be shaved and excess skin of the ear can actually be trimmed when the size of the ear is truly excessive. New alternative procedures often allow surgeons to thread sutures through the skin without the use of and large incisions in order to provide almost completely scar free results, with far less swelling or bruising, and a shorter recovery period.
After Surgery
Otoplasty generally requires only local anesthesia, although general anesthesia is may be requested or recommended when the surgery is for a child patient. While healing is not as problematic or extensive as with other forms of cosmetic surgery, recovery from otoplasty also takes an average of one to two weeks. During this period patients can expect bruising, swelling, redness, and discomfort, which is controlled with medication provided by the surgeon and taken along with antibiotics. Patients will be able to return to life as normal within a week or so and the stitches are generally removed after seven days. But patients will be advised to avoid rigorous activity for several weeks while the ears continue to heal and assume their new position.